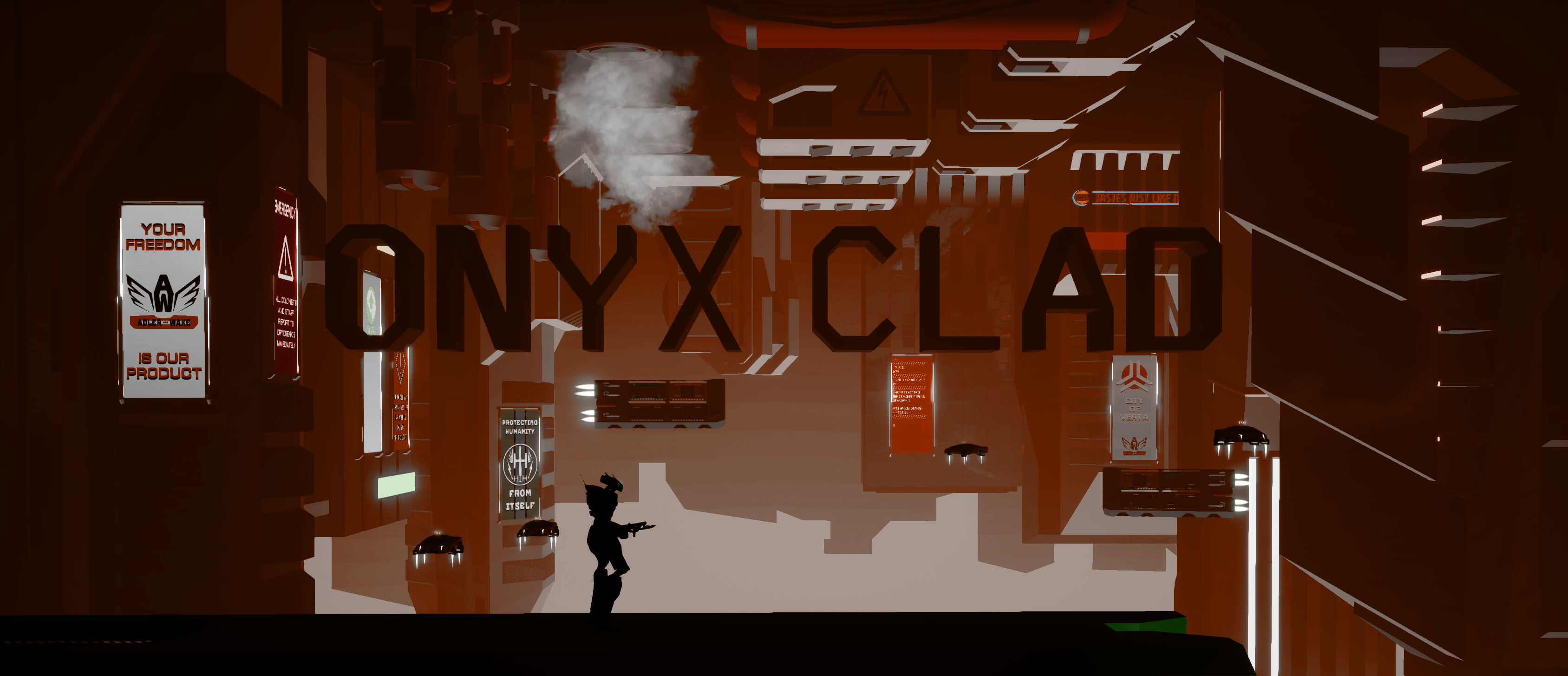 ONYX CLAD
ONYX CLAD ChangeLog (v1.1.3)
---
Get it here: https://siris-pendrake.itch.io/onyx-clad

Patch Notes:
V 1.1.3:
-Changed enemy spawn locations and navigation bounds on level "10:15 Mixed Freight" to better avoid instances where enemies would position themselves behind the player.
-Modified the moving level geometry in the "Employee's Only" room on the Level "Verta Colony" to make it more feasible to navigate.
-Removed the NAT Drone's ability to deploy energy shields.
-Added a waypoint at the end of the tutorial to better indicate how to exit and finish the level.
---
V 1.1.2:
-The Player can now press the Interact key on Terminal Screens to bring up a screen-view mode to read them more easily.
-The Player can now remove Active Modifiers via the Inventory Screen.
-Buffed blast damage on most explosive weapons.
-Fixed Broken Hit-Boxes on 'rock wall' meshes.
-Removed legacy puzzle mechanics from "Verta Colony" Level.
-Removed some confusing and unpolished puzzle mechanics from "War Room" Level.
-Rebalanced some Key Card and Address Locations for end-game areas.
-Fixed a few of the more notorious Out-of-bounds glitches.
-Addressed an eternal loading screen glitch. (More testing needed)
-Fixed a bug where the secrets counter in the Inventory Screen would sometimes be inaccurate.
-Other miscellaneous small tweaks and bug fixes.
-A possible cause for the flashing white screen glitch (seen on some hardware) has been discovered, however more testing is needed.
(Setting the Anti Aliasing method to Temporal AA may be able to solve the problem.)
-Some exploits (specifically ones relevant to speedrunning) have been found not to be particularly problematic, and have thus gone unchanged at this time.
---
V 1.0.0:
-Release Build.
---------------------------------------------------------------------------------------
IMPORTANT:
If you are updating your copy of ONYX CLAD to a newer build you will NEED to manually backup and transfer your previous save file!
To do this simply find the file library for the previous version of ONYX CLAD you have a save file in.
Go to HESR> Saved> SaveGames> find the files named Save_0.sav and ConfigFile_0.sav and copy them both to a safe folder for a backup and then paste a copy in the corresponding folder in the newer build's file library.
If all goes well, you should be able to boot up the newer build and hit the "Continue" button in the main menu to continue your previous save in the new build!
If this is your first time downloading ONYX CLAD please disregard the prior warning at this time. However, do be mindful of it if you ever update the game in the future and need to backup or transfer a save.